"Allow us to introduce you to Gotzoom, our newest member benefit."
Statistically 50% of your employee households have student loan debt.  The average debt per person is nearly $38,000 with burdensome monthly payments.
54% of Millennial's would rather have student loan debt relief over a 401K.  They can't reach financial goals most take for granted.
SAM is very pleased to present this video as a means to educate you on how to help your staff achieve financial relief.  A couple of potential "Next Steps" are offered below the video as well to make it simple.
"My name is Tammy and I teach students with disabilities at a School District in Arkansas. I heard of GotZoom less than a month ago, and already they have saved me $161,000!  I had been paying on my student loans for years, but still owed so much.  My monthly payments were $470, over 30 years, and that monthly payment was steadily increasing so I contacted GotZoom.  They took my information, ran the numbers, and offered a plan that brought my monthly payment down to $72 for the next 10 years and after that my loan balance will be forgiven! Of course, I accepted."

Click pictures below for a brief account of their GotZoom experience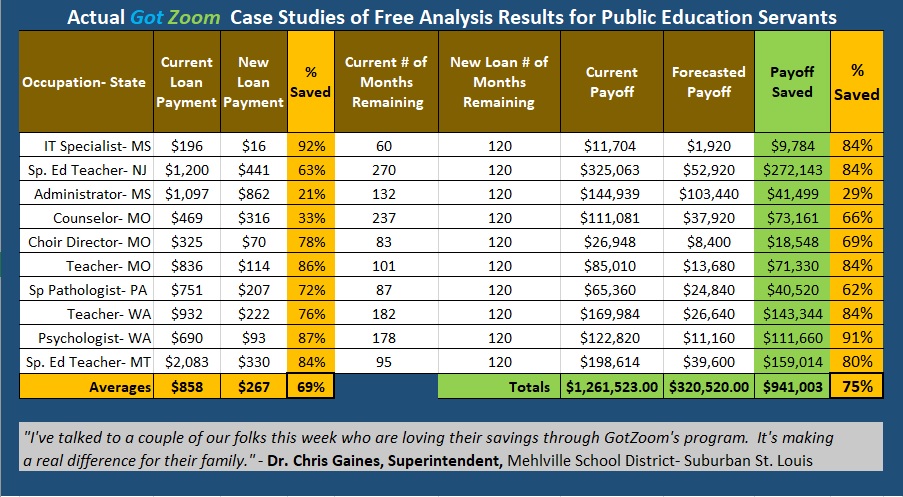 Q) How do I proceed with rolling it out to my district staff?
Q) How can I make a request for myself?
Q) Are there other ways to share GotZoom's program?
A) Yes and thank you for asking.  Here are a few options
1. The first way is to download this flyer and make copies, then place on  bulletin boards located in your staff lounges throughout your district;
2. If you have an online staff benefits portal, feel free to include this link https://essources.com/sam-district-employees/  which will take your staff to watch our program's 3-minute video and request their free loan reduction analysis;
3. Any finally, if you are inclined to share with your network of Superintendents, that would be very much appreciated. Simply provide them your recommendation and direct them to the 9-minute introductory GotZoom video using this website link https://essources.com/sam-district-presentation/. Thank you!
Q) What if I would like more information?
A) You have two options. First, if you have questions, you can email me, Breck Churchill at  [email protected]   or if you wish to talk, simply send me a couple of available times and I'll schedule a conference call. I welcome your call. Your second option is to consult our FAQ's page located at https://essources.com/sam-faqs/. Thank you!